DAOS Soul Band Evening –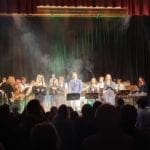 It was A Night to Remember and the audience really did Reach for the Stars and go Crazy at the end of a brilliant evening of musical entertainment, Signed, Sealed and Delivered by the Junior and Senior Soul Bands in the Main Hall on Wednesday evening.
Following it#s Royal Albert Hall premiere on Sunday, we were also treated to the Potter#s Bar premiere of Y11 student, Matthew Debnam#s composition, Finding My Way.
An ongoing theme through this term#s concerts is to start to bid a fond farewell to our Y13 musicians.  This was continued as Luke Newmarch performed Kamasi Washington#s  Kipling Theme in an arrangement he had created especially for the event for saxophone and Soul Band.
Mr Grimstead took the advantage of the evening to bid an enormously fond and sad farewell to Ms Niamh McNally. Niamh has been teaching at Owen#s in various capacities, including as classroom teacher and singing teacher, for 15 years. The Soul Bands were Niamh#s vision and, ever since she founded them, they have always earned a most treasured place in the school#s music-making. THANK-YOU Niamh, and we will miss you!
The whole evening was presented with extraordinary professionalism, pride and joy in performing. Congratulations and thanks to all the performers, the Owen#s Tech Crew, and the musical directors, David Guy and Neil Crossley (Junior Soul Band) and Matt Grimstead (Senior Soul Band) and, of course to Niamh Mcnally for her work with this year#s Senior Soul Band vocalists and for all the joy and inspiration over the years.